Trough chain conveyor HT
low carry-over and easy to clean
Type HT trough chain conveyors are designed for small conveying quantities. The bulk materials can be transported horizontally or slightly uphill.
The HT type trough chain conveyors are easy to clean and designed to minimise product carry-over.
Starting with our standard modular-system we adapt the chain conveyor to the product characteristics, the installation situation and the process requirements.
Trough chain conveyor HTBasic design
Space-saving bevel geared motor in slip-on design
Low carry-over, as the scrapers stripe off the trough completely
No gaps in the trough, since it is folded from a single piece
Take-up end with low dead space, the tensioning unit is integrated into the driving station
Scrapers made of white polyethylene 1000, FDA-compliant for foodstuffs
Troughs outside painted, inside untreated
Overflow valve with safety switch and inspection window
Chain conveyor type HT technical data
Chain conveyor
 
KF170HT
Trough width
mm
170
Intended JACOB pipework Ø
mm
150
Capacity for grain 0.75 t/m³

Max. fill height
mm
100
Nominal capacity at 0.45 m/s (66 rpm)
with length max. 27 m and 2.2 kW
t/h
15
Max. capacity at 0.35 m/s (50 rpm)
with length max. 43 m and 1.5 kW
t/h
8

Material thickness in the standard design

Trough
mm
3
Cover
mm
2
Chain characteristics

Chain breaking force
N
45000
Chain pitch
mm
41.4
Chain wheel, number of teeth
10

Weights of the elements with chain

Driving station with geared motor and without material to be conveyed
kg
43
Take-up end without material to be conveyed
kg
21
Trough empty
kg/m
30
Trough at max. fill height with 0.75 t/m³ of grain
kg/m
48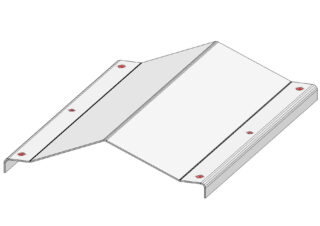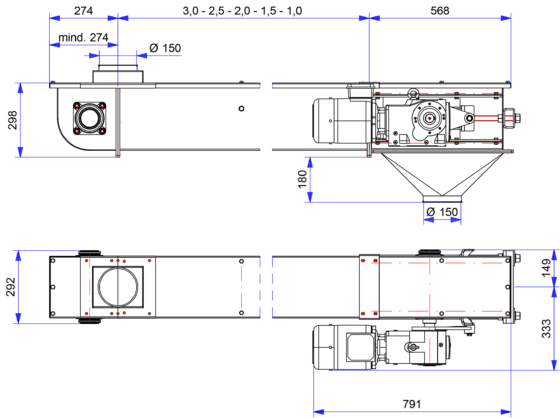 Examples from our production
You might also be interested in
How to contact us
Phone +49 4121-7957-0
Fax +49 4121-7957-79
eMail e-mail@paul-groth.com
Contact us
Use the contact form or email, and the right employee will contact you directly.
To the contact form
Tags: Chain conveyorChain conveyorsConveying technologyTrough chain conveyors