Screw discharger
complete discharging of products with poor flow characteristics
With a screw discharger, even products with very poor flow characteristics can be reliably discharged from containers and silos. In combination with a frequency inverter, it is possible to regulate the discharge capacity continuously.
Screw dischargers are dimensioned and designed according to requirements.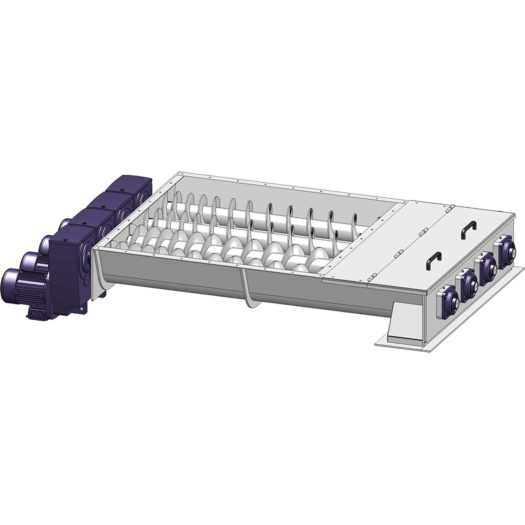 Screw dischargerBasic design
We design the size and number of the screw conveyors on an individual basis
Standard version: steel or stainless steel, screw flights also available in highly wear-resistant steel
Dimension drawing for screw discharger
| | |
| --- | --- |
| A | Width silo outlet |
| B | Height |
| C | Length of outlet |
| D | Length of silo outlet |
| E | Length of drive |
| F | Length of trough |
| G | Width of outlet |
Examples from our production
You might also be interested in
How to contact us
Phone +49 4121-7957-0
Fax +49 4121-7957-79
eMail e-mail@paul-groth.com
Contact us
Use the contact form or email, and the right employee will contact you directly.
To the contact form
Tags: Conveying technologyDischargeDischargerMultiple screw conveyorsProduct dischargeScrew conveyorsScrew discharger