Slide gate valves
for bulk materials, liquids and air
In the appropriate design the round gate valves can be used for bulk solids, liquids and air.
The knife gate valves are clamped between two flanges.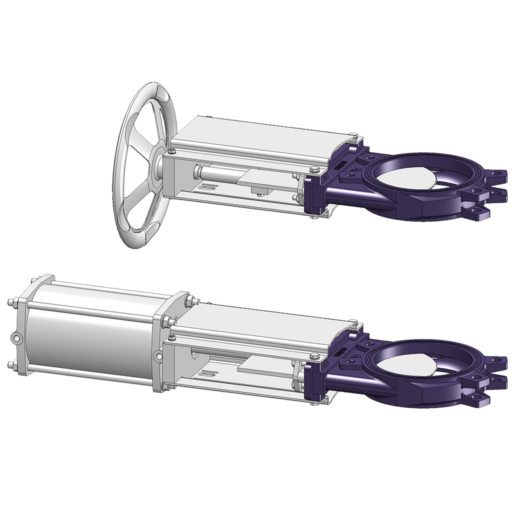 Knife gate valvesBasic design
Pneumatically-operated with limit switches
Manually-operated via handwheel or lever, with limit switches as an option
Knife made of stainless steel, housing of grey cast iron or stainless steel
Seals with packing of the stuffing box
Connection flanges and adapters to the pipe system used
Pressure tight knife gate valves
 
 
Diameters available
Size diameter
mm
50
65
80
100
125
150
200
250
300
350
400
Distance between flanges
mm
43
46
46
52
56
56
60
68
78
96
100
You might also be interested in
How to contact us
Phone +49 4121-7957-0
Fax +49 4121-7957-79
eMail e-mail@paul-groth.com
Contact us
Use the contact form or email, and the right employee will contact you directly.
To the contact form
Tags: DischargeDischargerOutlet slide gatesProduct dischargeSlide gate valves